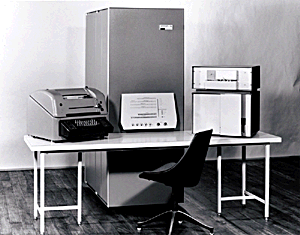 July:
Shipments begin of the PDP-4, DIGITAL's second 18-bit computer.
Similar in structure to the PDP-1, the PDP-4 used slower memory and different packaging to achieve a lower price of $65,000. Approximately 54 PDP-4s were sold in application areas as diverse as nuclear physics, production and stock control.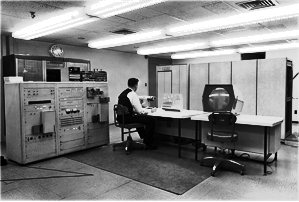 September:
The PDP-1 operating system, the world's first timesharing system, is written by engineers at MIT and BBN for the PDP-1.
The PDP-1 operating system's timesharing ability made interactive access to computers economically viable by allowing various users to share the computer simultaneously. Shown here is the PDP-1 installation at BBN.
Gordon Bell begins design work on the architecture for the PDP-5.
Bell based the PDP-5 on a 12-bit digital controller (the DC-12) that DIGITAL had designed in 1961 but never built. Bell specified the instruction set in the fall of 1962. Design work was continued by Edson deCastro in early 1963. Shown here is the 7th PDP-5 built.